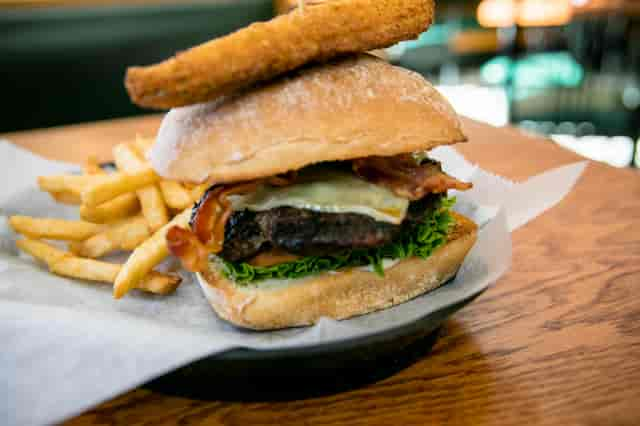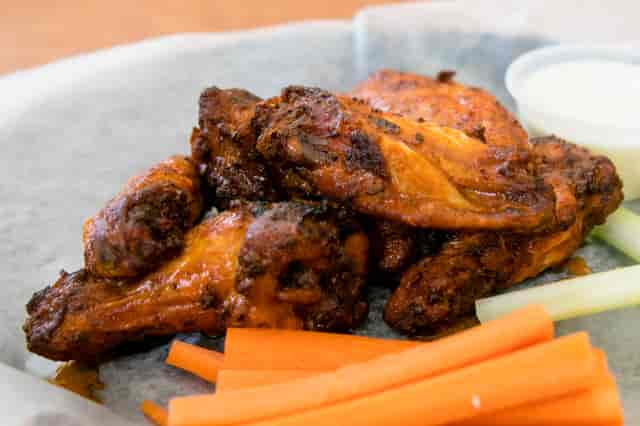 Menu
Become a VIP
Receive updates on special events, new menu items, menu reviews, and more!
Menu
Wings & Tenders
As we all know, a great wing is made better by a great sauce. That's why we bring a variety of sauces to the table - some of which you won't find anywhere else!

Zombie, Parmesan Garlic, BBQ, Honey BBQ, Honey Hot, Teriyaki, Sweet Chili, Mango Habanero, Honey Mustard, Buffalo Ranch, Buffalo, Mild, Sweet & Sour or any combination of these sauces you can think of!
Quesadillas
12 Inch tortilla covered in melted cheese, tomato, onion, black olive & jalapeno. Served with a side of salsa & sour cream.
Add Guacamole - $1.50
Salads
Salads are served with pita bread and a choice of dressing:
Italian, Lite Italian, Ranch, Olive Oil Vinaigrette, Bleu Cheese, Balsamic Vinaigrette or 1000 Island.
Club Sandwiches
Served with Homemade Chips and Pickle
Pizza & Stromboli
Pizza / Thin Crust / Strombolis / Toppings / Extra cheese
Small - 6.25 /7.25 /7.25 /1.45 /1.95
Large - 10.95 /12.95 /11.95 /1.95 /2.95
Sheet -22.95 / 24.95 / 34.95 / 2.95 /3.95
Slice - 2.35 /- /- /.35 /.50
Toppings:
Pepperoni, Hamburg, Mushroom, Bacon, Onion, Green Pepper, Ham, Pineapple, Chicken, Salami, Tomato, Black Olives, Garlic, Steak, Broccoli, Spinach, Jalapeno, Feta, Meatball, Sausage, Pastrami, Veal, Eggplant, Extra Meat, Extra Sauce, BBQ Sauce & Anchovies
Hoagies
Sub Only. Add homemade chips & a pickle to any hoagie for only a $1.50 or fries & a pickle for $2.50.
Chips
Wachusett Plain
Small $0.89 | Large $1.99
Wachusett SC&O
Small $0.89 | Large $1.99
Wachusett BBQ
Small $0.89 | Large $1.99
Wachusett Ripple
Small $0.89 | Large $1.99
Utz Plain
Large $1.69
Utz SC&O
Large $1.69
Utz Ripple
Large $1.69
Utz Onion & Garlic
Large $1.69
Utz BBQ
Large $1.69
Soda
Beverages for DINE IN:
Fountain Drinks-Free refills 2.79
Coke, Diet Coke, Sprite, Dr.Pepper, Powerade, Lemon Ade,
Unsweetened Tea, Sweet Tea, Raspberry Tea, Diet Tea
Hot Drinks:
Coffee (regular and decaf), Tea and Hot Chocolate
Beverages TO GO:
20oz $2.09
Coke, Diet Coke, Sprite, Orange Soda, Coke Zero, Diet Orange Soda, Dr. Pepper, Root Beer, Ginger Ale
Diet Sprite, Mello Yellow, Moxie, Grape Soda, Pineapple Soda, Lemonade Yahoo, Powerades, Diet Iced Tea, Apple Juice, Orange Juice, Berry Blend, Tropical Blend, Coffee, Hot Tea, Hot Chocolate
2-Ltr $2.89
Coke, Diet Coke, Orange, Root Beer, Dr. Pepper, Ginger Ale, Iced Tea
$3.99
Monster Energy Drinks